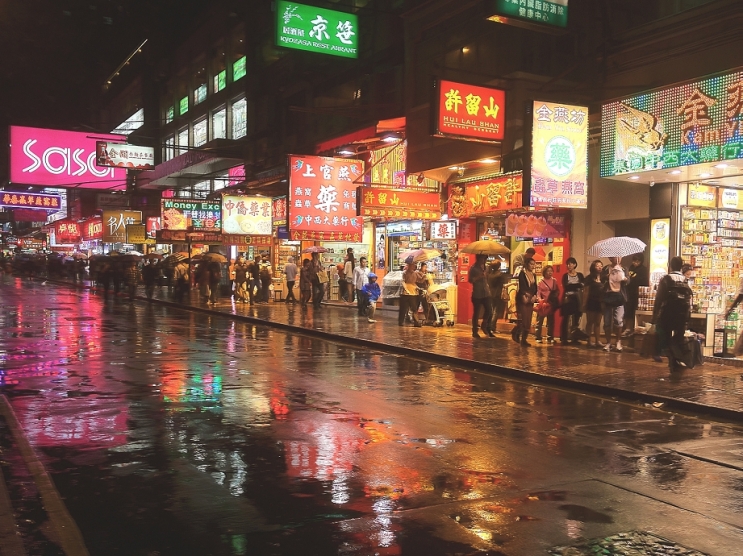 This week has mainly been about rain.  Drizzly, half-hearted, limp-handshake rain.   Blergh.  The photo above isn't from this last week, actually it's off an iPhone from my last trip to Hong Kong.   Even bad weather seems a bit more interesting and less grey the further East you go.
Highlights have definitely been breakfast and dinner meet ups with industry friends, including last night's catch up with Ciara of Dita Florita  and Sangeeta of Olivier Laudus.  If you're a bride to be and you haven't checked out Dita Florita yet, make sure you go click on the link asap.  They're an online boutique who sell the most gorgeous and incredibly affordable vintage wedding dresses.  I kind of have crazy love for the Diana and am tempted to just buy it myself and waft around Tescos in it.  Olivier Laudus on the other hand, have a massive collection of beautiful bridal accessories, from fascinators to wedding umbrellas (this summer's brides – take note!).  They're also currently running a competition on their blog. The winner receives a pair of gorgeous pearl drop earrings so what are you waiting for – send in your entry!
// ONE FOR THE DISORGANISED //
Probably the most useful infographic ever!
// ONE FOR THE RAINED – IN //
I stumbled across this list of 500 free movies online (I'm guessing they're all online in a legal and kosher way?). There's a big old mix of old films, documentaries, silent films and foreign films.  Enough to keep you busy   during a whole summer of rainy days.
                                                                                                            // ONE FOR THE BRIDES AND GROOMS //
I have a thing about New England. Never been. But weather-beaten, coastal, clapboard houses and sea-washed colours call to me in a big way.   Yes, I read Anita Shreve and yes,  I absolutely love the subtlety of this New Hampshire wedding.
                                                                                                             // ONE FOR THE TRAVEL BUG //
How ace does this Reykjavik hostel look? I think you could make yourself very comfy, very easily.