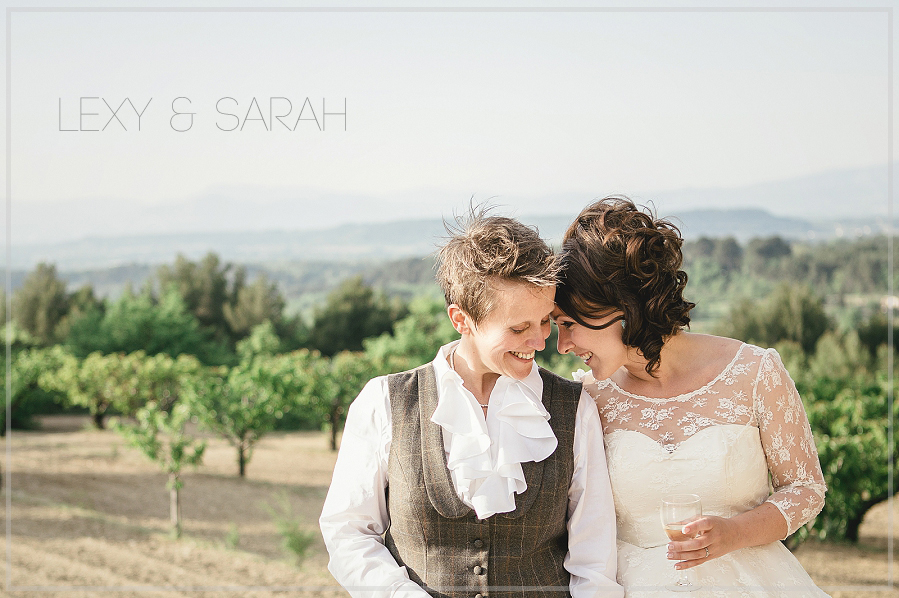 This one was always going to be a little bit special.
A few weeks ago, Lexy and Sarah got married in the South of France, under the shade of the trees, surrounded by their friends and family.  The sun came out for them and the ceremony gave me goosebumps – it was so beautiful, so heartfelt.  So personal.   But yeah, I'm getting ahead of myself.
I headed down a couple of days before with Hannah & the other fab girls of The Tea Set (having spent a couple of days with them haggling in markets and speaking spurious Frenchlish to a baffled Provence population, I'm absolutely convinced that everyone needs The Tea Set at their wedding.  You really do. I think I might do a little mini post later of our market day so I can introduce you properly).
The wedding itself took place in a beautiful terracotta villa owned by Sarah's family (complete with a pool and a view across the valley that takes your breath away) and the day before the wedding I headed down to scope it out. I was there in time for the ceremony rehearsal and for a lot of it, I wasn't paying much attention to what was being said. I was umm-ing and aaah-ing about angles and light and shade and shadows under the trees, like us photographers tend to do.  Then I remember looking up, and seeing Sarah when she thought no one was watching, her face absolutely choked up with emotion looking at Lexy with so much love and excitement about the day ahead.  And Lexy was the same, standing with the biggest smile on her face despite a crazy week of wedding set up. So happy, so excited.  And that was just at the rehearsal.
And so, to the day itself….

A big, heartfelt THANK YOU to Lexy and Sarah for being amazing people, for knowing how to throw a party, for having such a beautiful wedding and letting me be part of their day.  You two are just ace together xxxxxxxxx